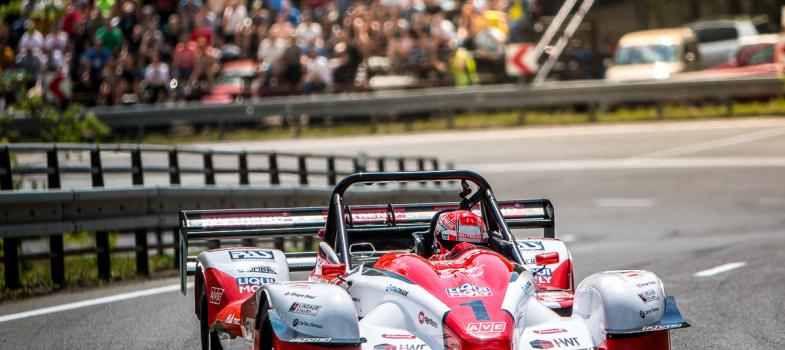 Regular participants of the Morris Cup Jahodná from 2011 became drivers racing to the FIA International Hill Climb Cup. This title and separate series was created by merging the FIA ​​European Hill Climb Cup and the FIA ​​International Hill Climb Challenge. Who can start in it?
FIA International Hill Climb Cup is the second highest series after the European Hill Climb Championship. It is announced by the International Automobile Federation - the FIA ​​and its calendar contains no more than 12 competitions each year. This season, there are eight races in six countries - two races in Italy, two in Slovenia and one in Poland, Slovakia, Germany and Austria. The season lasts from mid-May to mid-September.
No special registration is required in the series. Each driver who meets the conditions for participation is registered at each event. During  Administrative checks, drivers must present an international driver license and regular driving license. The same as in the HHCC series, the season is divided into two halves. All year results are counted, minus one worst in both halves of the season.
Cars are divided into three categories. Category 1 consists production vehicles of N groups (including R1), A (including WRC, S1600, R2 and R3), S20 (including R4 and R5) and GT. These are basically the most traditional cars we encounter in the rally. Category 2 consists of formula vehicles (D / E2-SS, CN, E2-SC, E2-SH), which are still divided into four groups according to the number of seats and engine capacity. Category 3 is a group of E1 production or travel cars with at least four seats.
When Morris Cup Jahodna was first included in this cup, then so-called FIA International Hill Climb Challenge in 2011, no foreign drivers were crowned and Andrej Krajci was the winner. The change came in the following year when this beautiful hill visited the Czech, Hungarian and Polish racers who get great results. Most drivers scored in the FIA ​​IHCC in 2016, with a total of 34. In total, 74 were collected in seven years.
The most successful driver on the Moris Cup Jahodná is definitely Czech Václav Janík, who turned four of his six starts to the win. Once ended defeated by Jaro Krajci and once for technical reasons did not finish. He is also amongst the three most stable drivers who missed only one of the seven seasons in the FIA ​​IHCC. The other two are Jiří Svoboda and Igor Drotár. Five starts have Vlado Hudy and Hungarian László Hernádi.
The list of drivers for Moris Cup Jahodná 2018 contains 36 names less than a week before the closing date. We believe it will be filled by other names until 9th  May, which will affect not only Slovak but also international statistics.
Zdenka Frývaldská
Press Officer of the Moris Cup Jahodná 2018